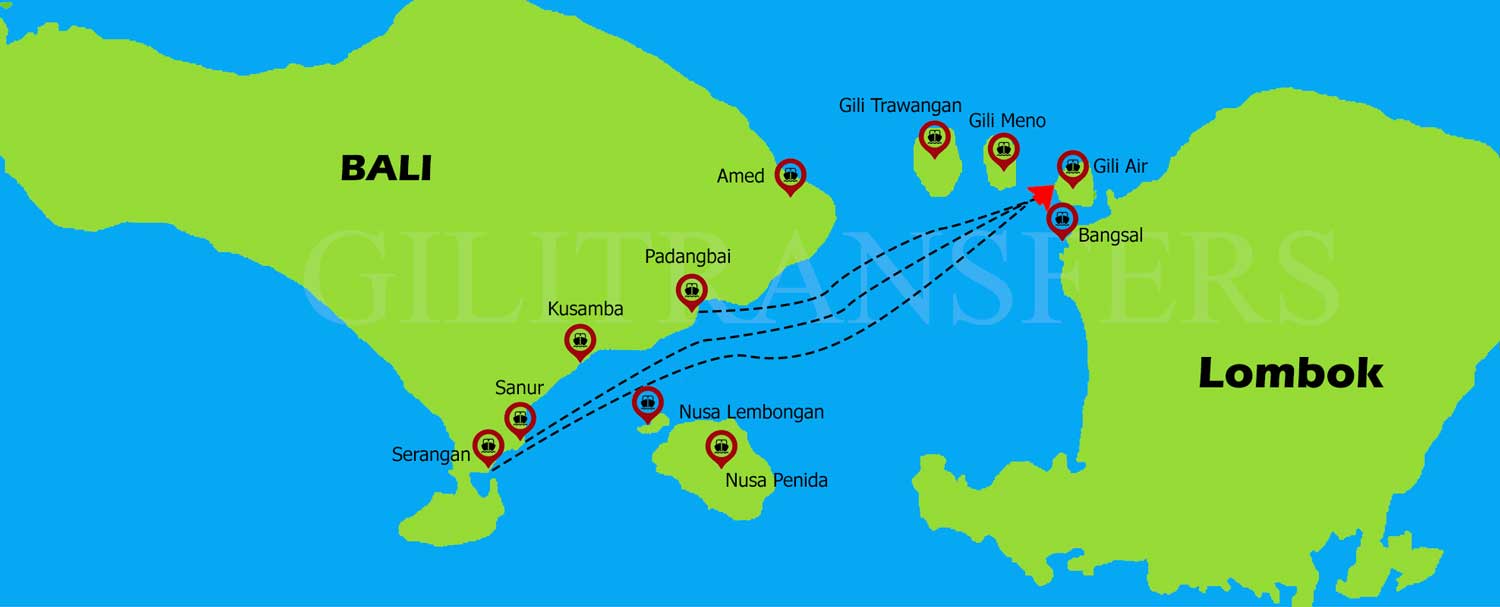 Bali to Gili Air
Among the popular Gilis, Gili Air become a favorite destination nowadays. It's not as crowded as Gili Trawangan with better public facilities rather than Gili Meno.
Traveling from Bali to Gili Air or vice versa, Gili Air to Bali, is pretty easy and can be reached either by direct fast boat to Gili or flight from Bali
The transfer between Bali and Gili Air is made by many fast boats every day. Medium boat with a capacity of around 50 passengers to the biggest one with a capacity of around 180 passengers. A fast boat cruises at a normal speed of 30 knots in normal weather.
In the meantime, fast boats have direct routes from Bali to Gili Air. Depart from Padangbai to Gili Air, Sanur to Gili Air, and Amed to Gili Air as the fastest way.
How To Reach Harbor in Bali
The fast boat tickets from Bali to Gili Air usually included free pickup/drop-off service, with a shared car. The driver will pick up another passenger from another area. This free shuttle only applies to Bali's main area with a schedule. Just inform the ticketing agent/fast boat company before departure to make the shuttle arrangement easier.
Besides, we can arrange a private shuttle with an additional fee. This private shuttle will pick you up at your hotel directly.
Taking a flight from Bali to Gili Air
Gili Air is a tiny island that has no airport. The nearest airport is Lombok airport on the Lombok mainland.
If you want to take a flight to Gili Air, you have to take a flight from Bali airport (Ngurah Rai airport in Kuta Bali. Code: DPS) to Lombok airport (LOP). The flight is only 25 – 30 minutes. Once you have arrived at Lombok airport, we can arrange a private shuttle service from Lombok airport to Gili Air. This shuttle service consists of a 1.5-hour overland transfer from Lombok airport to Bangsal harbor by car, and 15 minutes of crossing from Bangsal to Gili Air.
Fast boat or flight?
Depends on your preference and location
The fast boat is simpler than a flight. Fast boat only needs 30 minutes of boarding time at the harbor, 1.5 hours of sea transfer (via Padangbai), and 2.5 hours (via Sanur harbor). The total time for the fast boat is around 2–3 hours.
While a domestic flight takes about 1 hour of boarding time (the last check-in time for a domestic flight is 45 minutes prior to departure time and since this is strict regulation you may make it 1 hour), 30 minutes flight, 1.5 hours by car to Bangsal, 15 - 20 minutes crossing. A flight transfer takes about 2.5 - 3 hours with many transport switchovers.
The Advantage of Fast Boat is, It includes all transportation needed from a very single step out of the hotel in Bali. While taking a flight means the passenger needs to arrange each transportation separately. However, if you have any issue with sea crossing at high speed (e.g. have sea sickness or motion sickness, heart attack, pregnant, etc) then taking a flight will be best for you.
Departing and Arriving for a fast boat transfer
For more detail about departing and arriving for fast boat transfer, please refer to the page Fast Boat Departing and Arriving Guide.
Why Book With Gilitransfers.com ?