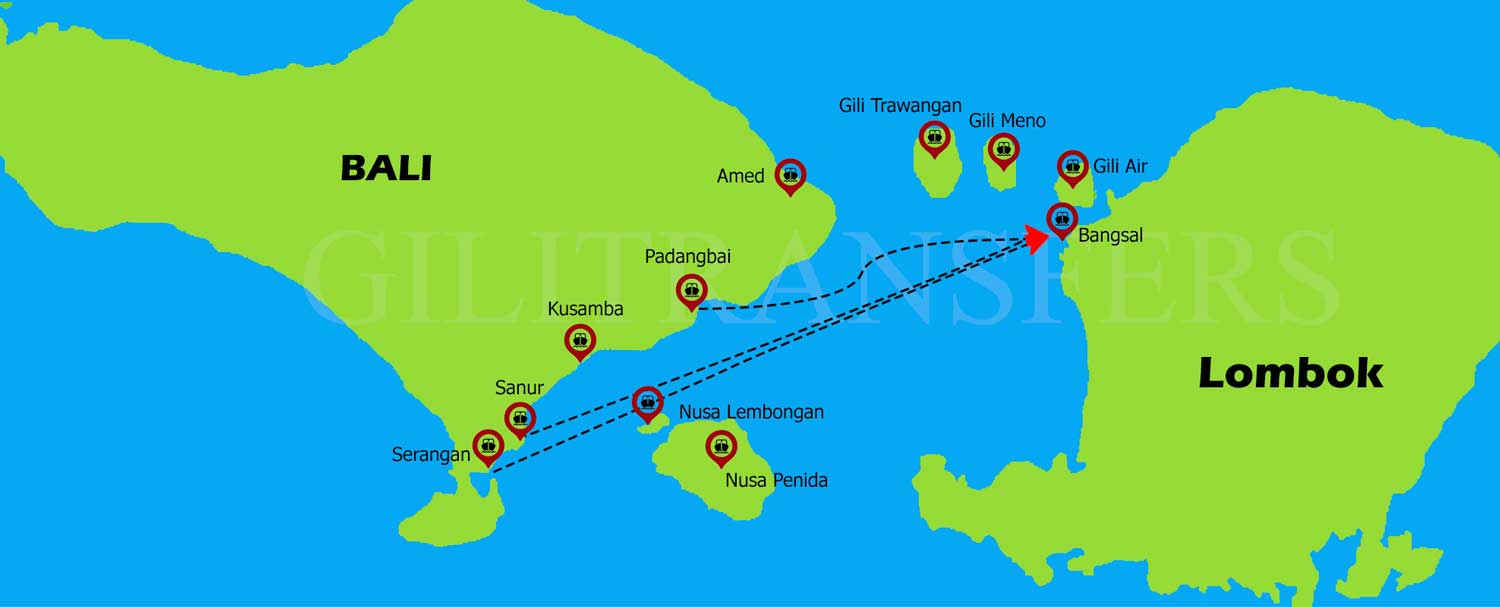 Bali to Lombok
Lombok Island is one of the small islands in West Nusa Tenggara. Lombok is an amazing island that is ready to amaze tourists with clean sand beaches such as unspoiled places, magnificent Rinjani, and friendly locals.
Traveling from Bali to Lombok or returning from Lombok to Bali can be arranged either by fast boat, or flight
Best Way from Bali to Lombok
Lombok can be reached by Flight, slow ferry, and fast boat from Bali. with various departure times, it can give you the flexibility to visit this neighboring island of Bali. The fast boat is often used by travelers to reach Lombok near Gili Islands than a slow ferry or flight. Fast transfer, many options of departure times, cheaper than flight, and can go directly to the popular destination like Gili, Senggigi, and Bangsal Area ( Gate to Mount Rinjani).
Fast Boat from Bali to Lombok
Fast boat from Bali to Lombok is made from fiber with a capacity of 40 to 100 seats. The main port of Fast Boat in Lombok is Bangsal. Located at North Lombok near Gili Islands and Senaru (one of the entrances to climb Mt. Rinjani). The other ports in Lombok are Senggigi and Teluk Nare but not all fast boat stops at those ports. All fast boats from Bali to Gili and Lombok make a stop at Bangsal harbor, so you can take any fast boat based on time/departure harbor preference.
Transport between the harbor and hotel in Bali
A ticket for the fast boat from Bali to Lombok normally includes a free shuttle service in Bali for tourist areas, so the passengers don't have to worry about the transport between the harbor and their hotel. Note that this free shuttle is only applicable in Bali's main area with a schedule. Just inform us or the fast boat company before departure time to make the shuttle arrangement easier.
Transport between the harbor and hotel in Lombok
A fast boat ticket IS NOT include a shuttle service between the hotel and harbor. Passengers should arrange their own transport or ask the agent to arrange the transport at an additional charge.
Flight To Lombok from Bali
Simply take a direct flight from Bali airport (Ngurah Rai airport in Kuta Bali. Code: DPS) to Lombok airport (Bandara Internasional Lombok in Praya. Code: LOP). The flight is only 25 – 30 minutes. Once you have arrived at Lombok airport, we can arrange a private shuttle service to your destination in Lombok.
Fast boat or flight?
Depends on your destination in Lombok
If your destination is the northern side of the island (e.g: Senggigi, Mangsit, Sira beach, Rinjani via Senaru) then a fast boat will save more time than a flight. If your destination is another area (Kuta Lombok, Mataram, Sekotong, Rinjani via Sembalun, or the eastern side of the island) then the flight will be more suitable. However, if you have any issue with sea crossing at high speed (e.g. have sea sickness or motion sickness, heart attack, pregnant, etc) then taking a flight will be best for you.
Why Book With Gilitransfers.com ?