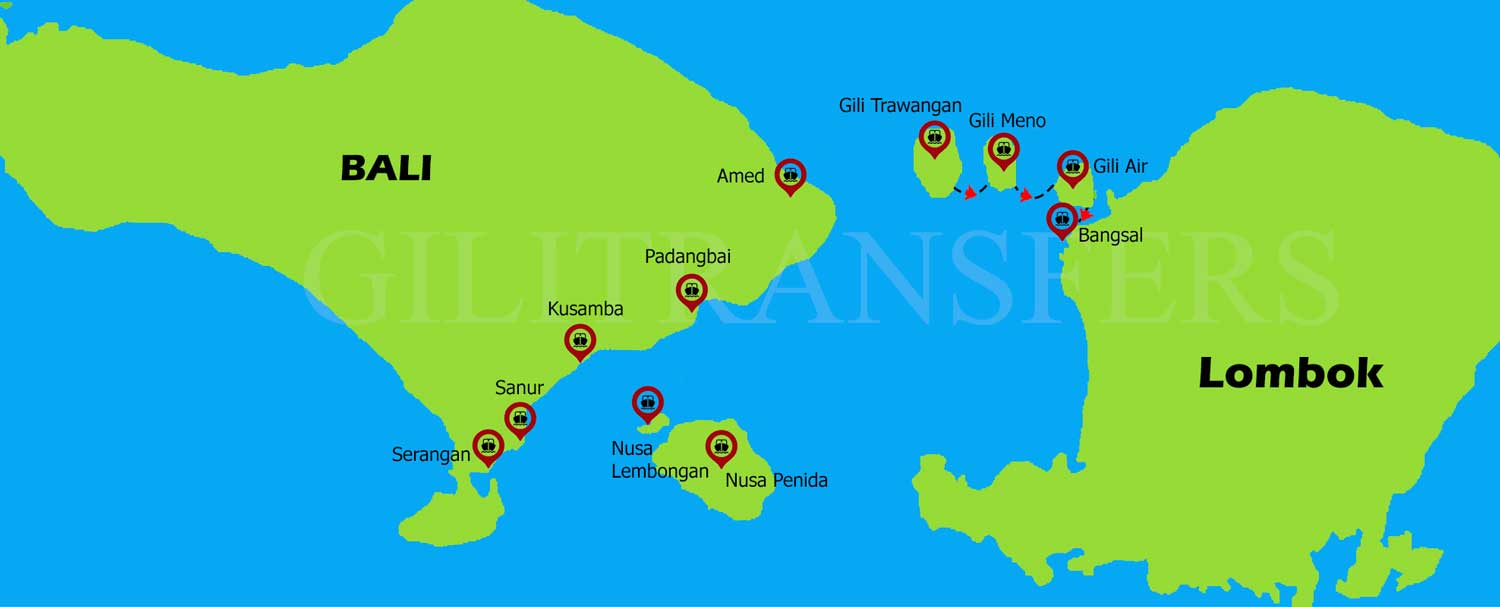 Gili Inter Island Trip
Gili Island is located off the northwest coast of Lombok, Indonesia. Gili Trawangan, known as Gili T is the largest of the other Gili, that is Gili Meno and Gili Air. 'Gili' means small island in Sasak, the native language of Lombok. Trawangan comes from the Bahasa Indonesia; Terowongan (Tunnel), due to the presence of a cave tunnel built there during the Japanese occupation in World War II.
Most tourists know about these amazing islands of Lombok. No motorcycles, no cars, no crowded transportation. There is no other mode of transportation besides foot and bicycle or the horse-drawn carriage known as a Cidomo.
Gili Island become the most developed island for tourism. Having many attractions of nature with unspoiled scenery for nature lovers. Offers an entertaining experience for those who want to enjoy the beautiful island paradise on an area of 338 hectares.
The island has calm water, enjoy the blue coral gardens and underwater life with great visibility up to 40-50 meters. The underwater scenery will satisfy you to explore the underwater nature on Gili Island, especially Gili Trawangan. Gili Trawangan Indonesia is one of the only two places that have this kind of blue coral in the world in addition to the Caribbean sea Mexico.
Gili Island can be reached by sea transfers only. Using fast boats, private boats, or using a traditional boat called Jukung. The transfer time from Bangsal Port is around 15 - 30 minutes, and the transfer time from Senggigi is around 40 minutes. Fast Boat from Lombok to Gili Trawangan departs from Bangsal, Senggigi and Teluk Nara. But Teluk Nara and Senggigi only operated at high season. So, if you want to travel from Gili to Lombok or vice versa, please ensure that the fast boat serves the routes.
Fast Boat from Lombok to Gili Island
There isn't a fast boat from Lombok to Gili right now. The only way is to use Jukung or a private boat from Bangsal.
Private Transfer from Lombok Airport to Gili Island
Besides using a fast boat from Lombok to Gili Islands, you also can use a private transfer to Gili Island ( Gili Trawangan, Gili Air, and Gili Meno ) from Senggigi or Lombok Airport by a private boat.
Some boat operators offer the price to a specific segment of the market. So, you don't need to worry about a fast boat schedule and etc. The price of a Private transfer was included with the boat and the car from Airport. You can make an online booking through this website Gilitransfers.com. Private transfer can depart based on your suitable time.
Why Book With Gilitransfers.com ?